Rebel City Games
LAVA Imports Inc. successfully markets games for adults under the brand name Rebel City Games in North America and throughout the world. All the products are retail ready for the North American market.
Engage your intellect and prepare for hours of entertainment!
Five Round Revolver - Card Games
Forget everything you know about traditional party games and get ready to experience the most competitive and exciting card game on the market today! This deadly game of skill and chance will test your nerves to the limit while keeping everyone on the edge of their seat!
Five Card Revolver consists of a set of 52 cards, the same number as a traditional deck, but that is where any similarities end. Card games for adults such as Cards Against Humanity® or Exploding Kittens® can provide rousing entertainment for the adult players but they can be difficult to take and play on the go. Five Round Revolver aims to solve this pain point.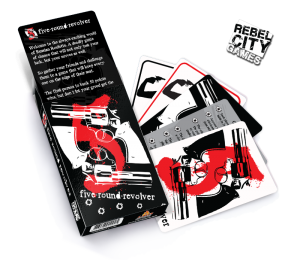 SUITABLE FOR TEENS AND ADULTS – Five-Round-Revolver can be enjoyed by couples, groups, teens and others looking for a fast paced, adult themed, game that is sure to keep everyone entertained.
EASY TO LEARN – Got 5 minutes? Everyone in your group will be up to speed on the rules very quickly but mastering the strategy to win will require skill, luck and intellect.
RUSSIAN ROULETTE SYSTEM – Based on the deadly logic of this lethal game of chance played by the soldiers of the Russian revolution, players must decide whether the risk of death outweighs the possibility of gaining a lead over your opponents. Beware, a wrong decision can get messy.
MULTIFUNCTIONAL PLAY Five-Round-Revolver can be easily adapted into a rousing drinking game or even a titillating strip game guaranteeing the entertainment or your party guests in a variety of ways
Ready for Retail
Five-Round-Revolver by Rebel City Games is retail ready and packaged in an attractive counter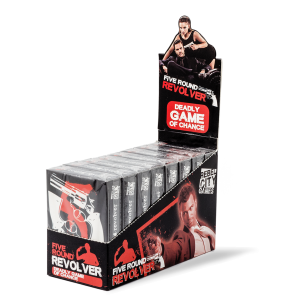 display case that instantly communicates the product differentiation.
We are interested in developing partnerships with resellers around the world. If you wish to become a Reseller or Affiliate Partner please contact us.
More wholesale information on this page.
Learn more about our amazing Rebel City Games products at:
Rebel-City-Games
YouTube Channel
Tweet us at