Azure Locks
LAVA Imports Inc. successfully markets a lock pick set for beginners under the brand name Azure Locks in North America and throughout the world. All the products are retail ready for the North American market.
Azure Locks is quite simply, the easiest but most comprehensive system to acquire lock picking skills.
Ever since there have been locks, there has been a need to bypass them. You possibly think of lock picking as being a nefarious skill of ne're-do-wells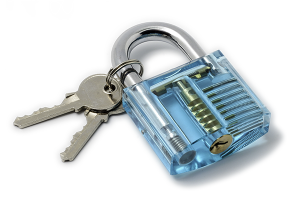 but in fact, lock picking is an activity enjoyed by regular people who rise to the challenge presented by these physical puzzles. Locksport communities have arisen worldwide, where like-minded individuals gather for the challenge presented by a closed lock to share their insights and to have fun.
In the past, locksmiths developed their skills through a long process of trial and error. They never could see inside the lock to understand the mechanisms – how they fit together and how they worked. Just like the advent of the MRI revolutionized human surgery, the Azure Lock serves to revolutionize the lock picking apprenticeship by allowing the student to peer inside the lock. You see, the Azure Lock is transparent. Being able to look inside the lock is a game-changer.
The complete lock pick set includes fully functional, clear practice locks, a set of quality picks a carrying case and access to the downloadable MIT Guide to Lock Picking eBook. This valuable and reputable reference gives the novice an edge in adopting this interesting hobby. The skills developed are not only useful in everyday life but can provide a source of additional income or satisfying employment for the skilled practitioner.
Ready for Retail
The Azure Locks lock picking set is retail-ready and packaged in an attractive see-through case that instantly communicates the product differentiation.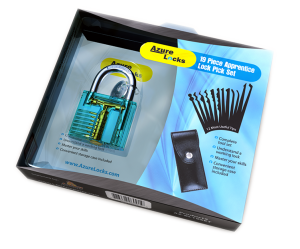 We are interested in developing partnerships with resellers around the world. If you wish to become a Reseller or Affiliate Partner please contact us.
More wholesale information on this page.
Download your FREE Lock Pick Guide - Click HERE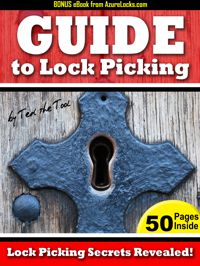 Learn more about our amazing Azure Locks products at:
http://www.facebook.com/azurelocks/
YouTube Channel
Tweet us at @azure_locks